Cost Data Handbooks (RSMeans)
RSMeans mechanical cost data 2013
Call Number: Reference TH 435 .M435 2013
ISBN: 1936335689
Publication Date: 2013
This guide provides up-to-date materials, equipment and labor costs needed to estimate mechanical construction project costs and to compare different types of components or systems. It includes unit price information on construction equipment rental costs, historical cost indexes to compare prices over time and city cost indexes to estimate prices in over 700 different cities throughout the U.S. and Canada.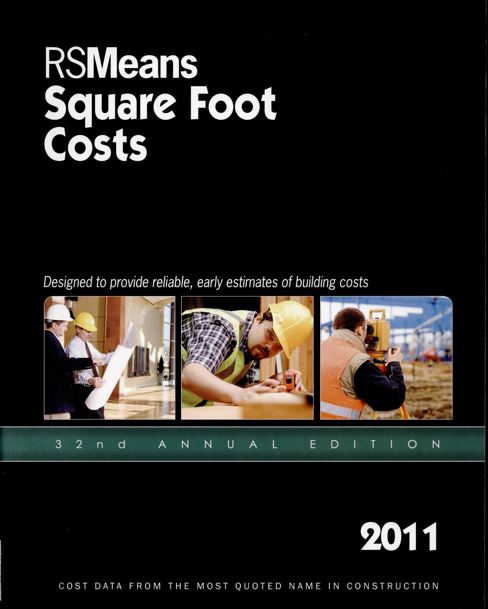 RSMeans Square Foot Costs 2011
Call Number: Reference TH 435 .M44
ISBN: 9781936335206
Publication Date: 2011
The comprehensive book provides clear descriptions and illustrations of hundreds of residential, commercial, industrial, and institutional buildings, with costs for more than 75 standard structures. The book also breaks down costs into "assemblies" component specifications and costs. For use in more detailed estimates. This fully illustrated section simplifies component identification and pricing.
Means Assemblies Cost Data
Call Number: Reference TH 435 .B848 2008
ISBN: 0876290195
Publication Date: 2008
Presents detailed illustrations, descriptions, specifications, and cost for over 350 types of building assemblies. Each illustrated and; assembled cost includes a complete grouping of materials and associated installation costs, including the installing contractor's overhead and profit.
Handbook of Human Factors and Ergonomics, 4th ed.
ISBN: 9780470528389
Publication Date: 2012
Each chapter in this online handbook has a strong theoretical and scientific base, but is heavily focused on real world applications, including case studies, examples, and figures. It includes new chapters on: Managing low-back disorder risk in the workplace, HF&E in motor vehicle transportation, User requirements, and more.
Handbook of Mechanical Engineering Terms
ISBN: 8122426085
Publication Date: 2009
This handbook includes concise, clear, up-to-date and precise definitions of over 4,000 terms associated with mechanical engineering.
Handbook of Performability Engineering
ISBN: 9781848001305
Publication Date: 2008
Dependability and cost effectiveness are primarily seen as instruments for conducting international trade in the free market environment. This handbook provides a holistic view of the entire life cycle of activities of the product, along with the associated cost of environmental preservation at each stage, while maximizing the performance.
These are the most current handbooks from the American Society of Heating Refrigerating and Air Conditioning (ASHRAE). The four titles rotate, with each title gettting a new edition once every four years. All volumes are shelved on the first floor of the McNichols library, and they must be used in the library (They cannot be checked out).